I finished up the diaper bag this morning - it was quite the project! I think that the fabric/linings had 35+ pieces to the pattern (actually, no pattern pieces, just measurements to cut) and the interfacing was another 25+ pieces. I didn't think I'd ever finish cutting! The instructions were wonderful. I had a question near the end and emailed the designer - I heard back from her within a couple hours. Great customer service. The pattern is called the "Professional Tote" from
http://www.thecreativethimble.com
There are plenty of pockets both front and back - the back pocket has a magnetic snap. I hadn't tried one of those before and the first one I put on I did backwards.
So, more cutting, etc.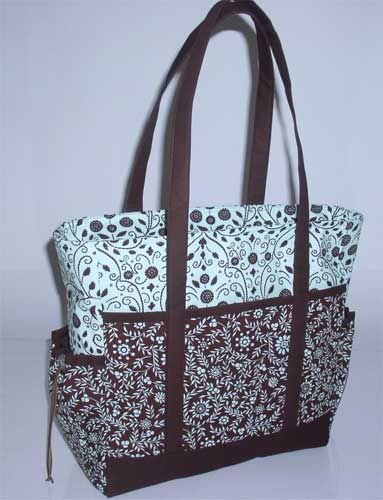 Inside are even more pockets - the center pocket zips as well. On the side that isn't showing, there's another pocket as well as a key fob.
Then I finished up a kleenex pouch and a sanitizer pouch that match as well. The only thing left to make for this ensemble is a wet bag. Maybe I'll sort that one out tonight or tomorrow.
I made the first sanitizer pouch and realized that in my frustration I had put
my
initial on it instead of hers! So, I made another one. My frustration came from the phone call right after I got home today - she had just come back from the baby store and had found the
perfect diaper bag
!!!



Now what? Can't return mine and I've spent at least $50 and 3 days working on it. UGH! Maybe she'll like mine just as well. I guess I'll find out at the shower.
Kathy