Here is my latest project, Simplicity 3715, View A. This pattern is for felted wool bags. It has hand embroidery on most of the views. Adhering to my decision to cut into some of those fabrics that I thought I never would cut into, this bag is made of some hand dyed wool that I purchased about 15 years ago. The fabric actually inspired me to try my own hand at dyeing wool and I hope to use some of that fairly soon as well. I proceeded to "full" the wool by washing it in soapy hot water in the machine with a cold rinse, followed by a toss in the dryer after. It worked.
One of the issues with the pattern and fabric is its softness. I did not want a bag lthat looked like an old sweater crumpled in the back of the closet after I used it a few times. I also really wanted the "bucket" effect for the pocketbook. Also based on my last bag, I added a zipped pocket and sum open pockets to the lining to make it more functional. This was not called for in the pattern.
I handled the softness issue by backing the wool with fusible fleece AND a layer of Decor Bond fusible interfacing. I also interfaced the lining with Formflex. The pattern suggests using plastic mesh canvas to make an insert in the bottom of the bag. I used instead an impeccably clean old throwaway plastic cutting board. I glued it to the inside bottom of the bag with hot glue. I really think it would be floating around in the bag otherwise.
The pattern called for a magnetic closure which I found at Joanns cheap, cheap. - 6 for 1.29 if I remember right. I interfaced the area behind the flap that gets the magnet thing with an extra layer to strengthen that area. I think this is real important and again not called for in the pattern.
The embroidery is done with more fulled wool and is cut and appliqued with a blanket stitch and no finished edges. Fulled wool doesn't ravel. I did change the stitches from what the pattern recommended using a back stitch where they recommended an outline stitch. I got brave and embroidered my initials on the outside bottom right. The embroidery took me a night and a morning of TV and I was done. The bag then went together today. Without the lining changes I made it would go together even more quickly.
I definitely would recommend this pattern with the interfacing changes I did. Otherwise you will just have a saggy looking bag.
I hope you like my most recent project. I am seriously thinking of just continueing with the momentum and getting my Christmas projects out of the way with these bags. I think my daughters would actually use them.
Detail: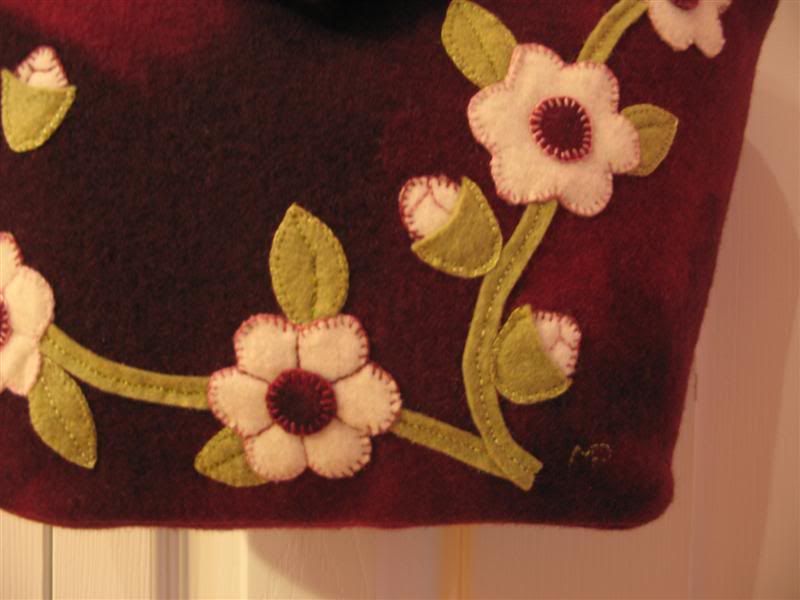 Bunny