First Off as a disclaimer let me say that by offering to lead this sew along do I think I am an authority of any sort. So many of you are much better seamstresses than I am but I have made a few shirts by this pattern. I am more than happy to share anything I know and hope this encourages someone who doesn't sew for them selves to give it a try.
Anyone feel free to contribute any helpful advice and ask any questions you want and feel free to ask questions.
Day One:
Today is mostly prep but necessary.
Prepare and trim pattern--
Select the size you want to make. I start with a size 2 sizes larger than my RTW size. I have found over years that this almost always works for me. Measure yourself and compare those measurements to the measurements that corresponds to that particular size on the back of the pattern envelope. You can also measure the pattern pieces subtracting the seam allowances to compare the measurements . Just remember to allow for ease.
Layout your pattern on your fabric and cut out your shirt just like any other garment you might make. Mark your pocket placement and front and back darts. I use a different pocket than the one in the pattern because I already had a template for it.
Cut the interfacing for the interfacing for the pattern pieces requiring interfacing and fuse if using fusible interfacing-- Collar, collar stand(one), Front bands(two), and cuffs(two). I vary from the pattern here and cut the interfacing only to the fold line on the front bands. Most patterns do it this way and you should get a crisper fold by doing it that way.
When I cut my interfacing I trim away a little on the edges out of the seam allowance. On the interfacing for the collar and cuffs trim off the points. You will get a nicer point when you press.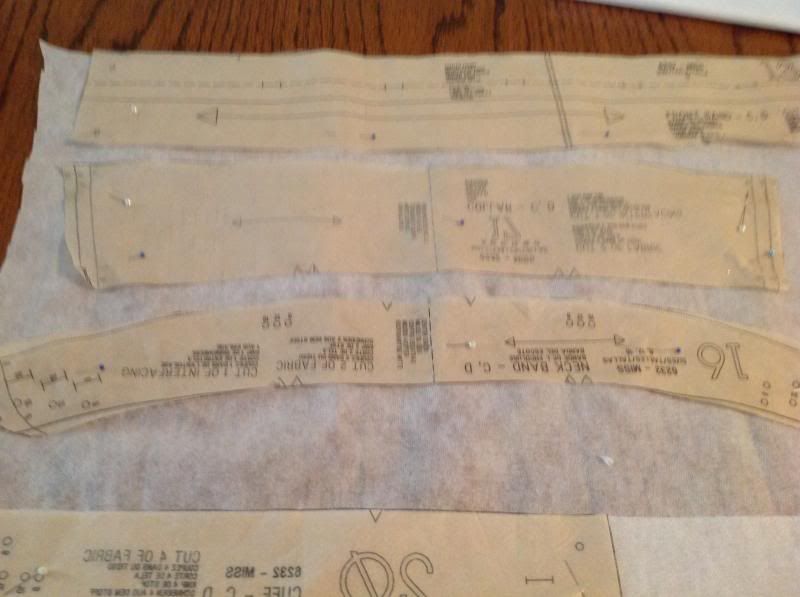 OPTIONAL: I use cardstock to cut a template for my Pocket and sleeve placket. Trace your pocket pattern. Trim odd the seam allowance and to the fold line at the top of the pocket. Do this also for the top portion of the sleeve placket with the. It will be easier to press under those little seam allowances. I also have a sheet of cardstock that I have drawn 5/8, 1/2 and 1/4 inch lines on to use as a guide for pressing under seam allowances. To me this is a time saver rather than picking up and laying down a seam gauge but it is intirely up to you if you want to do this.
Here is a pic of the sleeve placket. The area marked in red is the area to use to cut the template. I didn't feel like I explained. That well.